Mighty March Carnival Business Thank You...
The PTA and BOT would like to extend their heartfelt thanks to the following business for their support of the Mighty March Carnival. Without these businesses, our Market would be very hard to run and would probably not be terribly profitable! As these businesses have supported us, we urge to support them!
| | | |
| --- | --- | --- |
| AD Architecture Ltd | Gus Evans Nurseries | PC Concrete |
| ANZ | Harrisons Garden Centre | Peter Jackson Plumbing |
| ASB | Hire Pool | PlaceMakers |
| Bidfood | Hookway Tutoring | Pony-Tales Riding School |
| Bohanna Motors | Jenoa Waikanae | Q Signs and Graphics Ltd |
| Brien Electrical | JMA Decorators | RJ's Liquorice |
| Bryant Plumbing | Jo Tindall, Harcourt's | Sign Craft |
| Cancer Society New Zealand | John's Hardware | South Pacific Roses Te Horo |
| Countdown Waikanae | Joy Cairns - One Agency | Steve Rose Electrical |
| Dark Horse Coffee | Judgement Builder | Stihl Shop Kapiti |
| David & Co Chartered Accountants Ltd | Kapiti Coast Embroidery | Stretch Tents Wellington |
| Delaney Mitsubishi | Light Vehicle Testing, Waikanae | Striks Azaleas Otaki |
| Dilmah Tea | McLachlan's Bobcat | Super Donut Hero |
| Electrical Dynamics | MossCaff Wellington | The Licensed Handyman |
| Fenceworkz Kapiti | New World Waikanae | Waikanae Butchery |
| Funzone | Norrcom | Waikanae Funeral Home |
| G.J. Gardner | NZ Proud | Watson's Gardens Ltd, Otaki |
| Glen Mattingly, New Zealand Home Loans | Otaihanga Landscaping | Web 2 Print |
| | Paveway | Westbury Pharmacy |
Official Sponsors thank you! We would also like to make a special thankyou our 'Official Sponsors'. To be an 'Official Sponsor' a company must purchase signage. The profits from this sponsorship ensures that all of the costs of running the Market were covered before we started. In effect, every dollar we take on the day is profit! A pdf of the logos provided for the sponsorship signage is shown in the link below. Thank you!!!
Thank you to our Sponsors!!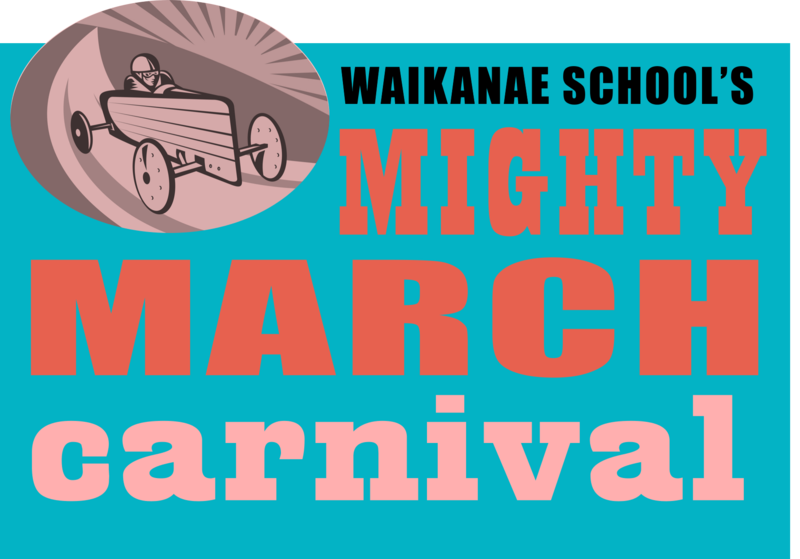 Saturday 16 March 2019
The Waikanae School Mighty March Carnival is a huge day of fun for the kids! The biennial event takes place this year on Saturday 16 March from 10am - 2pm.
Whacky Wheels Trolley Races!
The special event of this year is the Whacky Wheels Trolley Cart Races. Do some DIY with your kids making the trolley cart of their dreams (and yours!). Or you could just finish off that project that's been in the garage for a while...!
There will be prizes for:
Trolley Cart Drag Race – using hill power!

Time trial – team up with mum, dad or your best buddy and get around the track as fast as you can

Most Creative – the sky's the limit!

Best Fully Recycled Trolley
The competition will take place on the top field at 11.30am.

Entry is free, register today by emailing Jason on jase.caly@gmail.com - there will be a limit on the number of entries.

Other highlights for the day
Live Music - featuring the school talent
White Elephant - this huge stall takes over the entire school hall and is bursting with all sorts of amazing bargains to buy.
Carnival Games – Can Knock-down, Spin the Wheel, Potty Toss, Balloon Dart Throw, Crockery Smash, Sitting Ducks, Gutter Boat Race, Ping Pong Ball Toss there's no end to the fun! Everything will be set up to go – we just need parents to help run them on the day!
Bouncy Castles
Food
High Tea tent
Face painters
Big Dig
Raffles and prizes
Hāngi
Cake stall
Candyfloss stall
Photobooth
The theme of this year's gala is sustainability and proceeds will go to the school Enviro Centre.
This is a single-use plastic free event.