STAR
(Supplementary Test for Achievement in Reading)
February V October Comparisons
About this Assessment Tool
This tool assesses students' reading ability (over a number of components) and compares their performance to norms (Bell Curve of Normal Distribution).
There are various components within the test. These are….
For all students Year 3 to 8: Word Recognition, Sentence Comprehension and Cloze Activities

For Year 3 students: Synonyms

For all Year 4 to 8 students: Paragraph Comprehension and Vocabulary Range

For Year 7 to 8 students: Language of Advertising and Writing Styles
These aspects are used by teachers to target teaching and learning.
It is important to note that for the purposes of this report overall test results have been used.
This year Achievement is being reported in three different ways.
1. Stanine Reporting: Stanines enable a student's achievement to be compared against National Norms. Stanines and their associated test scores have been scaled and 'normed' to fit the 'Bell Curve of Normal Distribution'.
2. Year Group Equivalent: As part of the Ministry of Education's National Standards Initiative we are now able to convert the test score to give an approximate Equivalent Year Group. This means a test score for a Year 6 student might be the equivalent of a typical Year 9 (if they are really advanced) or a typical Year 3 (if the student is behind).
3. Indicative National Standard Score: The above feature also enables us to gain an indicative National Standard for each test score. We stress that this is indicative as National Standards are based on an Overall Teacher Judgement (OTJ) of the student's entire progress throughout a given year and not just a one off test. Nevertheless it is interesting to see the school-wide results.
Description of Ethnic Groupings
| | | | | |
| --- | --- | --- | --- | --- |
| Category | Number of Students in Test Group | Percentage of Test Group | Description | Notes |
| All | 377 | 100% | All students tested from Year 3 to Year 8 | |
| Maori | 33 | 9% | All students identified upon enrolment as Maori | |
| New Zealand European | 272 | 72% | All students identified upon enrolment as New Zealand European | |
| Other | 53 | 14% | This category includes all students identified upon enrolment as being Asian, South East Asian, Other and Other European | |
| Pacific Peoples | 11 | 2% | This category includes all students identified upon enrolment as being Samoan, Fijian, Cook Island Maori | |
| Other Pacific Peoples | 8 | 2% | This category includes students identified as Other Pacific Peoples | All of these students are very new immigrants from Kiribati for whom English is a second language. Intensive support is currently in place for 7 of these students. |
Achievement Summary
Performance by Stanine
Year Group Cohorts
There has been a pleasing lift in performance from February to October in all cohorts. There seems to be a significant value added component in each cohort.
October Performance shows that 78 % of all pupils are reading at or above Stanine 5, up 6% on February 2011. 60 % is the Norm.
There are sixteen students in Stanine 1 and 2 (October). Six of these students are new to the school, five of whom are immigrants with English being their second language. Of the eleven remaining students in this cohort three have global learning disabilities. All sixteen students are or have received extensive additional support to address their reading difficulties. This support has been on-going. Support includes Reading Recovery, Rainbow Reading, RTLB, Resource Teachers of Reading etc.
All Year Group cohorts exceeded the norm by between 9% and 22%.
The stand out cohort for 2011 is Year 4 with 27% at or below Stanine 4 in contrast to the norm of 23%.
There is no significant drop in the 'tail' when making comparisons between February and October. We only have 11% of our students in the tail (Stanine 1, 2, 3) in contrast to the norm of = 23%
There has been an increase of 12% in Stanines 7, 8 and 9 from February to October, with a total of 46% of students reading in Stanine 7, 8, 9 in contrast to the norm of = 23%.
Girls outperform boys in both February and October by 7%. Both cohorts also show an improvement of 7% between the February and October performance, meaning each cohort has progressed at the same rate.
Results 'Overtime' show a consistent improvement in performance from February to October for the Years 2007 to 2011 with an average lift of student performance of 6.5%. There is also very little variation in the Overall October result for each year.
Ethnicity Cohorts
Maori are achieving at about the same level when compared to 'All students'.
Maori are performing above the National Norm by 13%.
Pacific Peoples are performing below other cohorts.
Other Pacific Peoples (eight students) are performing well below both the norm and other measured cohorts. These students are recent immigrants with English being their second language. All of these seven students are receiving supplementary support in the form of ESOL Reading programmes.
Performance by Year Group Equivalent
There are no norms to measure against in this analysis just an arbitrary standard for each year group. The value added component is clearly evident in all graphs with big lifts in performance across the board.
Due to the small numbers of Maori, Pacific and other Pacific Peoples in each year group cohort it is inappropriate to offer ethnicity comparison as it would mean that individual students can be identified.
Performance by Indicative National Standard
Results on this graph are indicative only.
The overall indicative performance against the Standards (Using the Ministry of Education Assessment Resource Map) shows:
A consistent performance across the year. The number of students performing at or above remains 77% and below or well below 23%
There is a very small shift of 1% from Below to Well Below
There is a 10% shift from Above to At.
Graph 1
Graph 2
Graph 3
Graph 4
Graph 5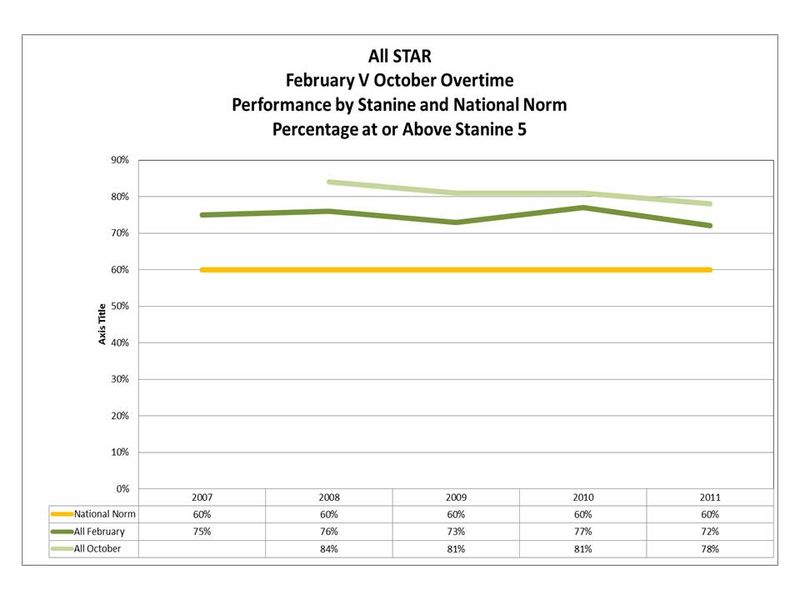 Graph 6
Graph 7
Graph 8
Graph 9
Graph 10
Graph 11
Graph 12
Graph 13
Graph 14
Graph 15
Graph 16
Graph 17
Graph 18